LotusSphere 2010: Social Collaboration delivers Real Business Value
The first big keynote session after the OGS (Opening General Session) was KEY106: Social Collaboration delivers Real Business Value in which Jeff Schick asked: What is your companies collaboration culture? Is it phone? Is it email?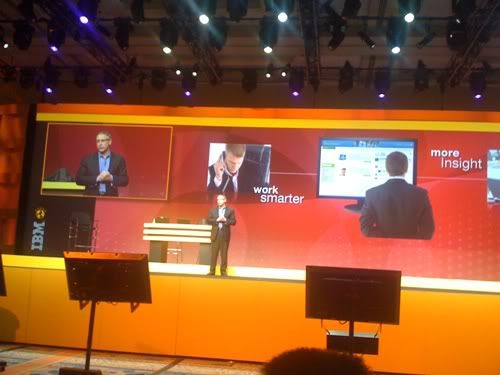 What do you think will get you the best response? Is that dropping an email bomb on your employees or a dynamic search of a live site? Not surprisingly we are still in the proces of justifying corporate social software. We need metrics to convince our managers.
A number of partners and clients came on stage to showcase how collaboration has helped their business grow. First of all, Saleem Avan, Head of IT at the United Nations showed us how collaboration helps them to be agile and creative in harsh situations.
Other client showcases included Thomas Anger, manager Collaboration Services at Sun Life Financial (and guess what his blog is called: Anger Management. That drew a few laughs), Sogeti CTO Michiel Boreel (which I'll get into later), Travis Hall - Director of Client Engineering at Union Pacific and Eve McLain from ACI which deliver payment processing solutions
KEY106 Social Collaboration Delivers Real Business Value at Collaboration Matters.
Labels: florida, ibm, lotus knows, lotussphere2010, ls10, orlando, sogeti, teampark, twitter, walt disney world