LotusSphere 2010: Starship Social Enterprise
Early monday morning the LotusSphere 2010 Convention officially kicked off in the grand opening session. General Manager of Lotus Software Bob Piccanio did the introduction, then quit the job as he introduced Alistair Rennie as his successor.
We weren't expecting any kick ass announcements as Jeff Schick had already given a few sneak previews at the Business Development Day session yesterday, so we were all waiting for the big star to open the ball. This time it was William Shatner, or Captain Kirk of the Starship Enterprise.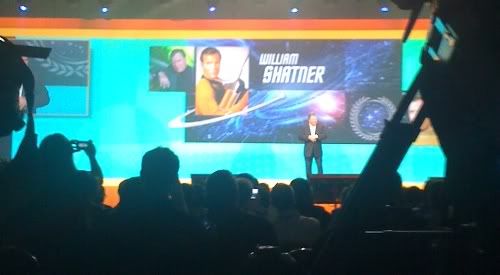 His performance drew a lot of laughs as he talked about collaboration in the movie industry. For a pretty extensive live blogging coverage of the OGS (Opening General Session) check out the Collaboration Matters website.
Labels: enterprise, florida, ibm, lotus knows, lotussphere2010, ls10, orlando, star trek, twitter, walt disney world, william shatner